Hundreds of patients, just one conclusion – Hemocyl works
Positive results of Hemocyl  – as presented – are based on medical trial. This clinical study on piles took place in a scientific manner to provide accurate data and real conclusions. Here are the results of Hemocyl trial, conducted over period of two years.
HEMOCYL TRIAL
---
This study was conducted on 252 respondents, 140 male and 112 female.
AGE DISTRIBUTION: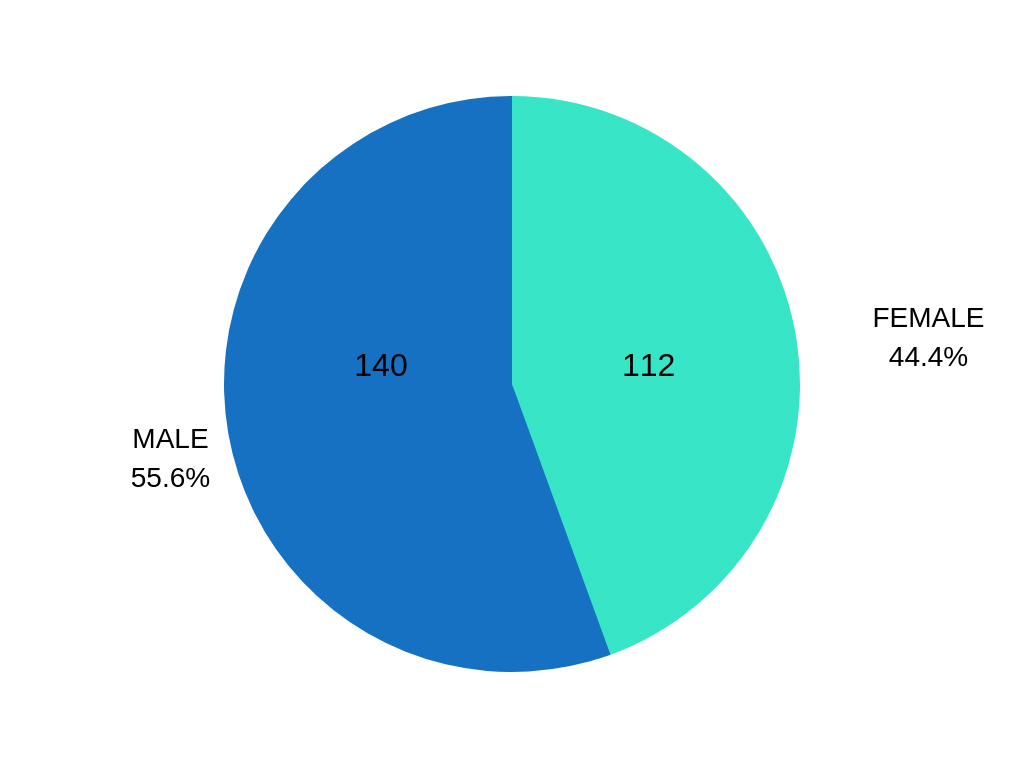 | AGE (YEARS) | TOTAL | PERCENTAGE |
| --- | --- | --- |
| 20 - 29 | 13 | 5,2 % |
| 30 -39 | 43 | 17,1 % |
| 40 -49 | 57 | 22,6 % |
| 50 -59 | 75 | 29,8 % |
| 60 -69 | 45 | 17,8 % |
| 70 -79 | 19 | 7,5 % |
DIFFICULTIES EXPERIENCED BY THE RESPONDENTS, DIVIDED INTO THREE GROUPS AND THEIR DISTRIBUTION
| DIFFICULTIES | TOTAL |
| --- | --- |
| Pain in the anal area | 174 (72,2 %) |
| Itching in the anal area | 156 (64,7 %) |
| Appearance of fresh blood in the stool | 159 (66,0 %) |
CLINICAL EXAMINATION
After the examination, it has been detected that 175 respondents experience difficulties indicating grade I and grade II hemorrhoids disease. Grade III hemorrhoids disease is verified in 68 cases.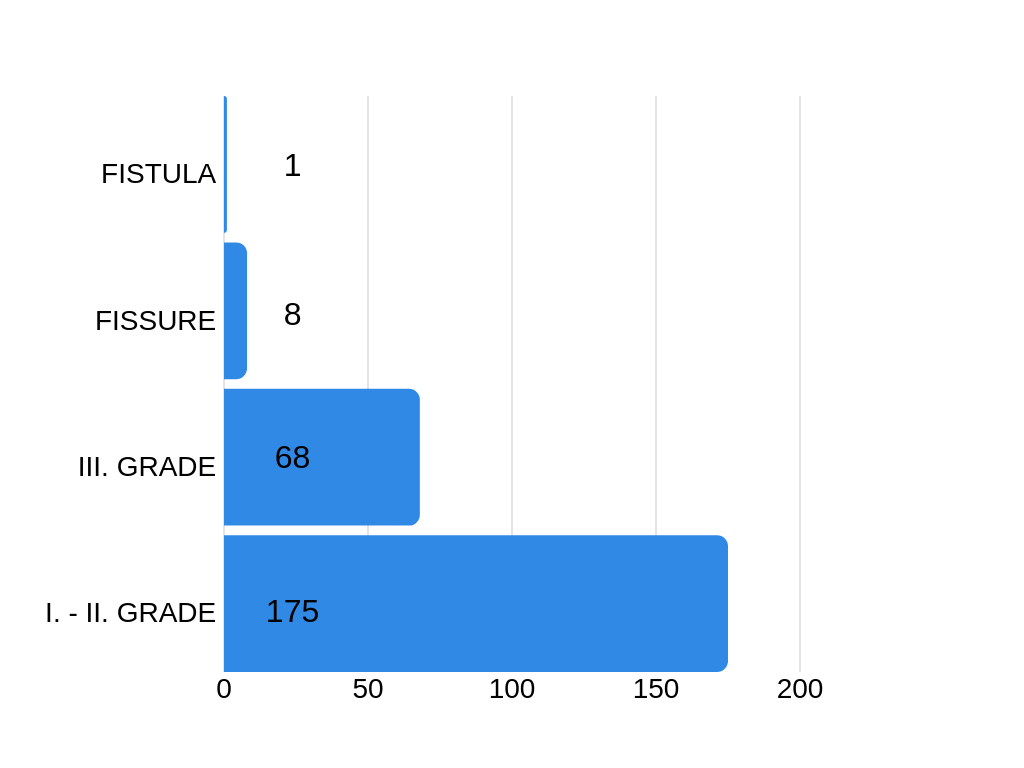 If we observe the duration of symptoms on Figure 2, it is evident that 53% of the respondents experienced problems over period longer than 5 years, while  for 31% of the respondents the duration of symptoms lasted between two and five years.
Only 16% of the respondents reported that they had symptoms for less than two years. It is important to note that the respondents with shorter history of symptoms had enjoyed better results. But the overall response to the therapy was nevertheless excellent.
| SYMPTOMS OCCURANCE PERIOD | NUMBER (RATIO) OF RESPONDENTS |
| --- | --- |
| 1 - 2 years | 40 (16 %) |
| 2 - 5 years | 79 (31 %) |
| more than 5 years | 133 (53 %) |
In the testing phase, we collected data if the respondents have been under any therapy prior to our research. The 52.5% of respondents have not had any earlier treatment, while 47.5% previously used locally applied remedies (creams, gels and suppositories).
Recommended treatment for our respondents was 14 days. After Hemocyl capsules treatment, the clinical examination was repeated.
RESPOND BY GRADE OF HEMORRHOIDS AFTER HEMOCYL THERAPY
I. AND II. GRADE HEMORRHOIDS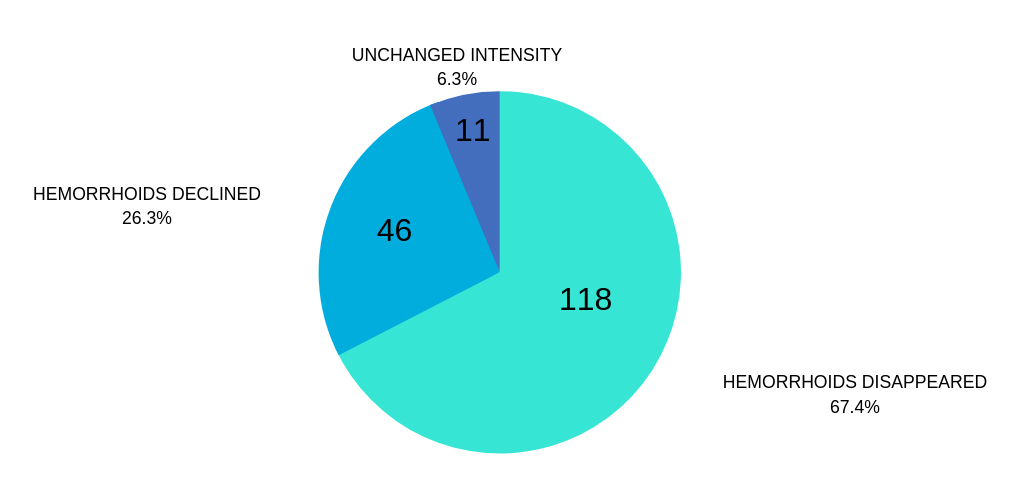 III. GRADE HEMORRHOIDS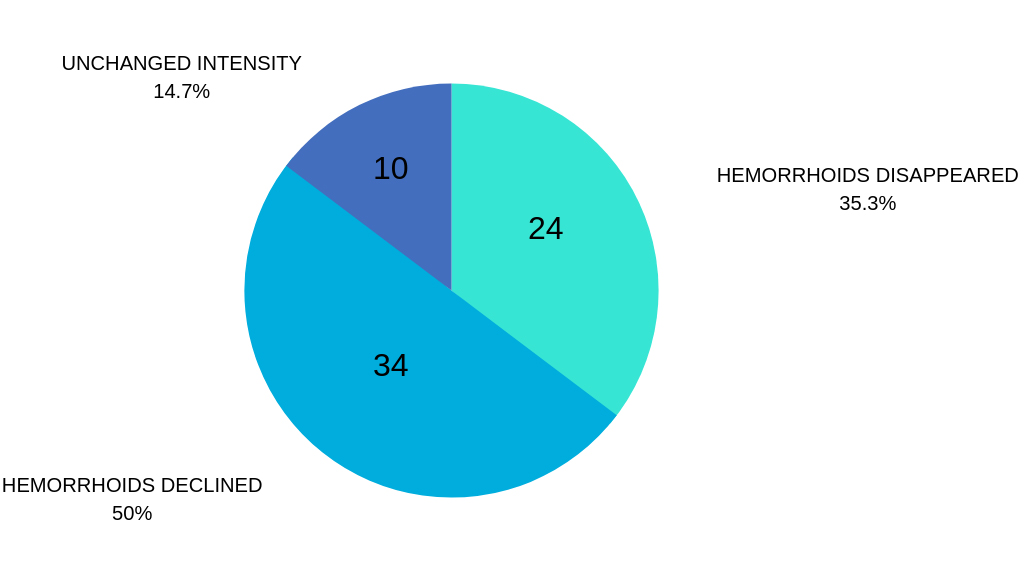 For most patients occurrence of side effects was very encouraging.
In 90% of the examined cases, no side effects were recorded, while the rest – only 10% – of the patients reported mild and passing side effects such as softened stool, pain, itching or bleeding. The side effects disappeared after the treatment was completed.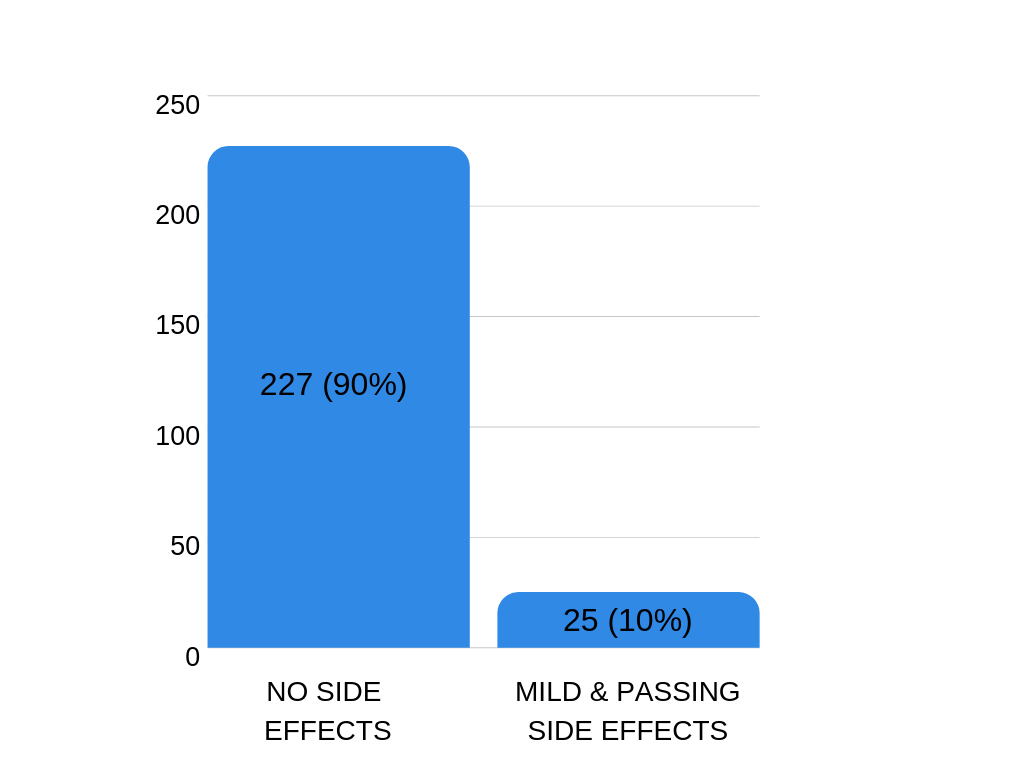 CONCLUSION
---
Since as high as 94% of patients felt improvement or complete regression of symptoms after Hemocyl treatment, most of the patients did not need any further treatment.
A smaller group of patients (approximately 41) needed another two weeks of treatment before the symptoms regressed completely.
We conclude that Hemocyl capsules treatment is highly efficient and effective.
Patients take it with ease, long-term side effects have not been reported. Side effects occurred only in a small number of patients and those were rather minor and temporary difficulties such as: softer stool, pain, itching or bleeding.
The mild side effects ceased after the completion of therapy. According to the duration of treatment and the achievement of results, this treatment is only stage-wise. The ease of use (it is consumed orally) makes it very convenient for use.
The results obtained show that most of the patients who experienced grades I and II of the disease also experienced its complete regression, which was particularly evident in grade I patients who enjoyed it in more than 95%.
Grade III patients reported significant reduction of symptoms occurrence (lower levels of pain and bleeding) and the decrease in size of the hemorrhoid nodes.
Important remark: after Hemocyl treatment, the patients with grade III disease were able to postpone the surgical procedure.

EFFECTS
Hemocyl reduces pain, bleeding, inflammation, itching, excessive mucus secretion, burning sensation and discomfort in the end part of the colon quickly and effectively.
REFERENCES
Vinter (editor of the Croatian edition): Waldayer Anatomy, Golden marketing – Tehnička knjiga, 2009.
T.Šoša, I. Tonković, Ž. Stanec: Surgery, Naklada Ljevak, 2007.
J. Lipozenčić: Dermatology, Medicinska naklada, 2008.
J. Fila: Stand up tp Haemorrhoids, Vaše zdravlje 2005.
Anica Ledenko – Manojlovic: Haemorrhoids under control, 2006
Aleksandar Soltyšik: Hemocyl – fight haemorrhoids in style, 2010
Marin-Neto JA, Maciel BC, Secches AL.: A biochemical study on the hypotensive effect of berberine in rats. Gen Pharmac 1978, 10:177-182.
Chi-Li Kuoa , Chin-Wen Chiab , Tsung-Yun: The antiinflammatory potential of berberine in vitro and in vivo, Cancer Letters, 203:127-137.
Wing-Hung Ko, Xiao-Qiang Yao, Chi-Wai Lau Wai-Ip Law, Zhen-Yu Chen, Walter Kwok, Keung Ho and Yu Huang: Vasorelaxant and antiproliferative effects of barberine, European Journal of Pharmacology, 2000, 399: 187-196.
Huang CG, Chu ZL, Yang ZM: Effects of berberine on synthesis of platelet TXA2 and plasma PGI2 in rabbits, Chung Kuo Yao Li Hsueh Pao 1991, 12:526-528.
Wu JF, Liu TP: Effects of berberine on platelet aggregation and plasma levels of TXB2 and 6-keto-PGF1 alpha in rats with reversible middle cerebral artery.
Occlusion, Yao Hsueh Hsueh Pao 1995; 30:98-102.
Creasey WA: Biochemical effects of barberine, Biochem Pharmacol 1979; 28:1081-1084.
Chun YT, Yip TT, Lau KL, Kong YC: A biochemical study on the hypotensive effect of berberine in rats, Gen Pharmac 1978, 10:177-182.
Marin-Neto JA, Maciel BC, Secches AL, Gallo L: Cardiovascular effects of berberine in patients with severe congestive heart failure: Clin Cardiol 1988, 11:253-260.